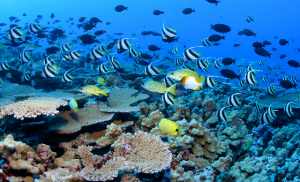 When you ah dreameen, of life by da sea
but you are stuck he'ah, in farm hills with mee.
Maybe den someday, you'll wit me agree,
"some good can come out of tech-no-logy".
When you ah sighin', and life is so stark,
Doing ya homework, wit barely a mark,
Take a quick break, love, wake up from the dark,
And you will see, a lov-el-y shark.
When we ah singin, togetha we roll,
Dancin' around at our watering hole,
Then you remembah, the ocean so free,
Millions of fishes, for you and for me.